Loman Bell
Biography
Hello my name is Loman Bell and this is one of several books I've been working on. All my days so far I've had an intense passion, to express myself in books, singing, writing, and painting, etc. In my attempts so far I've tried to show that, as represented on my face book site, my group page, the web page, as well as several printed books on line at amazon, and other book web sites, and this big new adventure at writing an e book. I have an unfailing love for GOD and believe totally in everything HIS word says. My hope is mankind will turn in this direction too, with a serious passion to seek and search HIM, comparing openly HIS word with any other ways that may be contending
for this position. I'm preparing for a bit of a rocky future considering all the events unfolding today yet totally secure in the fact of GOD loving everyone and HIS salvation will be everlasting. Hope you'll at least give this fictionalized prophetic story a read and we'll see what tomorrow brings.
Books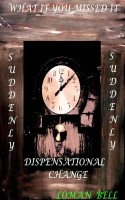 "What If You Missed It"
by

Loman Bell
The Fictionalized and yet Prophetic life of a small group of people who manage to escape the future events of the great tribulation period coming on mankind and the world.We follow their day by day year by year survival and how they cope with almost everything. Even with the loss of many who have comforted them in the past they now live with that loss and attempt to go on.
Loman Bell's tag cloud