Jared Vaughn
Biography
Jared Vaughn is the author of the acclaimed novel The Longest Time. It's a nostalgic story about a unique boy named Charlie, whose love for his childhood friend Lisa leads him to fulfill a heroic purpose. Readers of all ages have unanimously agreed that they "can't put it down," and are eagerly awaiting the sequel, Another Time. He loves to encourage dreamers in his writing workshops and panels at comic cons and libraries, with a special emphasis on the youth. Jared's vision extends beyond The Longest Time series with his company, Time Honored Productions. The summer of 2018 will mark the debut of several exciting releases from Time Honored. Free Time Tales is a collection of short stories by new writers, featuring a new story from Jared called Invisible Touch. Also featured in Free Time Tales are two young ladies with their own book on the way. Tobias' Travels is a delightful story for all ages about a little robin who goes a long way. Cleverly written by Shoshanna Aaliyah and beautifully illustrated by Nadia Rose, this is the first book in history written and illustrated by two teenagers. But it doesn't stop there-- a coloring book version will be available as well. In addition to his writing and publishing, Jared is known for his cosplay. He has appeared at many conventions as Marty McFly beginning on Back to the Future Day, October 21st, 2015. He's quick to make you laugh with his impressions and costumes from all three films, often accompanied by Doc Brown. His cosplay has also included Clark Kent, Neo, the highly original Mario McFly, and many more still to come. Whether he's riding a hoverboard or writing a story, Jared Vaughn is always looking for new ways to express his creativity and spread the Power of Love. He encourages you to take Doc's advice--"The future is whatever you make it. So make it a good one."
Where to find Jared Vaughn online
Books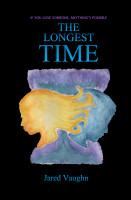 The Longest Time
by

Jared Vaughn
Charlie and Lisa are childhood friends in the 1970's. As time goes by, and they travel different paths, it becomes clear that they have the love story of a lifetime. Filled with exciting twists and surprises, you'll laugh and cry as Charlie discovers the reason for the secrets he carries. The secrets that could change everything. Readers unanimously agree that they "couldn't put it down!"
Jared Vaughn's tag cloud