Tina de Rouwe
Tish Livanos (Pen name Tina de Rouwe) has just published her first book - We The People, Your Employer. For the past 5 years, Tish Livanos has owned and operated her consulting business offering assistance to companies responding to Request for Proposals from a variety of government agencies. She specializes in venues such as national and state parks, attraction facilities, museums, and other recreational opportunities. Her expertise covers many aspects of business including hotel operations and reservations, retail planning operations and purchasing, food & beverage, guest recreation, and support services (maintenance and administration). She understands the financial impact of each and has extensive knowledge of Environmental Management Plans for visitor operations in sensitive areas. Customers included major companies such as Aramark Corporation and Destination Cinema.

Prior to her consulting, Tish Livanos completed a 26 year career with Delaware North Companies in both domestic and international operations. As Vice President - Business Development, Livanos was responsible for developing and managing new business for the Parks & Resorts division. Her direct responsibilities included identifying strategic opportunities, coordinating and managing prospective clients, property developers, owners and government officials, leading concept development and coordination of bid preparation between architects, designers and writers; and coordination of all property contract acquisitions. Livanos completed acquisitions in excess of $70 million and new accounts with revenues of over $100 million.

Prior to this role, Livanos was Vice President - Finance for the Parks & Resorts division. Responsibilities included finance, accounting, establishing and implementing policies and procedures, compliance, coordination of IT systems with implementation and testing, preparation and review of periodic report preparation, coordination of annual audit procedures, and evaluation of new business opportunities.

Before returning to the US in 1996, Livanos held the position of Director of Finance for DNC's Australasia division with responsibility for all financial operations in Hong Kong, China, Thailand, Guam, Saipan, Australia and New Zealand. Functions included cash management, banking relationships, external audit and compliance with local laws and new business evaluations. She operated in a variety of industries such as airports, sport stadium concessions, parking, lodging and hospitality, industrial catering and hospital food and janitorial services.

Livanos commenced her employment with DNC in South Africa as Assistant General Manager for the operations at Johannesburg's International Airport, providing food & beverage and retail services in 25 outlets at the airport.

Livanos earned a Diploma in Financial Management at Damlin College in Johannesburg, South Africa. Livanos is multicultural and trilingual in English, Afrikaans, and conversational Dutch.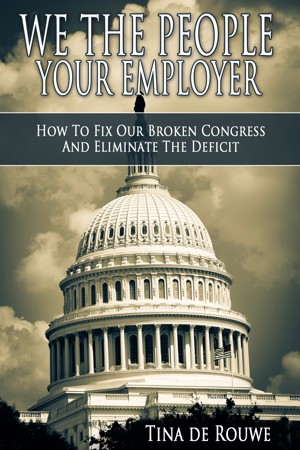 We The People - Your Employer
by

Tina de Rouwe
How to fix our broken Congress and eliminate the deficit.