Terry Powell
Biography
Thank you for your interest. I reside in New Jersey with my wife and three children and have a BS in Management from Rider University. I'm an ex-soldier who still keeps close ties with many friends who continue to serve. In order to feel connected, I tend to visualize my writing into a screen play of sorts, so as much as I like to include a bunch of detail in my stories, I dont necessarily believe that quantity always equals quality--page-count wise. Big books have always been alittle overwhelming to me, as they are to most casual readers, so my only goal in doing this is to keep the chapters relatively short to make the AVERAGE reader feel accomplished, throw some lessons learned in there to make you go "hmm", and a pinch of faith because as a man of faith, I can only hope that you'll open the Good Book in addition to one of mine anyday.
Where to find Terry Powell online
Books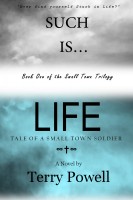 Such is Life, Tale of a Small Town Soldier
by

Terry Powell
We're all stuck in life in some form or fashion, but trusting your faith, friends, and the pursuit of forgiveness is hard work these days for Stan, a sarcastic-ridden soldier who narrates his life's story to fellow soldiers. Things continue to happen to Stan until he realizes he is forced to grow up at the expense of coming back to the people and place he found himself wanting to run from.
Terry Powell's tag cloud