Theresa Nichols Schuster
Biography
Theresa Nichols Schuster has worked and written in the area of community and individual health promotion and wellness for the past 15 years. During this time, through her own business, TNS Services, she has directed projects and subcontracts with HIV Prevention, Emergency Preparedness, Tobacco Use Prevention, Employment Training and Wellness, Parenting Workshops, Teen Coalitions and Support Groups and Community Wellness Strategic Planning.
Her own journey through the confusing nature of digestive dysfunction and its real disability in daily life has inspired her to follow the trail of medical research to better understand assessment, diagnosis and treatment of digestive disorders. It is her goal to assist other individuals, together with their healthcare providers, to realize an improved quality of life with greater freedom from the pain, discomfort and social and psychological distress that results from a malfunctioning digestive system.
Books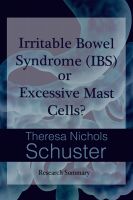 Irritable Bowel Syndrome (IBS) or Excessive Mast Cells? Research Summary
This medical research summary elucidates the connections between excessive intestinal mast cells and digestive dysfunction described as mastocytic enterocolitis. Personal stories, medical terminology and reflections from a practicing gastroenterologist highlight this article that provides information to assist with diagnosis and treatment of those described as having irritable bowel syndrome.
Theresa Nichols Schuster's tag cloud