Todd Riemer
Biography
From the red deserts of Morocco, to the dark, fogged in streets of London, I have traveled the world soaking in both landscape and history to create a tapestry of collective memory. When I write, I pull constantly from this web of ideas; scraps of lectures, newspaper clippings, long lost vistas, the sensation of a soft touch, the distinctness of foreign smells. Through my craft I am concerned with stimulating all of the reader's senses, bringing to life the world and future I have constructed. My writing serves to show a possible destination, a possible vision of where we are heading. Though disturbing and dystopian, my vision is one that brings out the essence of the human experience; the choice to fight oppression or to submit, the choice between what is right and what is wrong. My characters, like most of the people I have met along my journeys, are not so clearly defined. I choose to examine their experience delving into the swirled gray shadows that exist between the world of good and evil.
Where to find Todd Riemer online
Books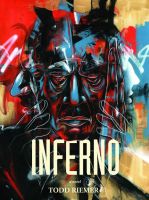 Inferno
by

Todd Riemer
The world as we know it has become a history hidden by layers of ash. The great Democracy of the Magistrates has spread itself far and wide. Imprisoned as a traitor, Blum makes an unholy pact, denouncing his mortal soul for an opportunity at vengeance. However, as his quest for revenge wages onward, he realizes that the price on his soul may not be enough.
Todd Riemer's tag cloud