Jaime Martinez Tolentino
Biography
Nominated for the Nobel Prize in Literature, JAIME MARTÍNEZ-TOLENTINO is the author of 14 books, and the editor of 6 others, some of them in Spanish, some in French and some in English. Those books, published in Puerto Rico, the USA, Germany, Spain and Australia, include literary and historical essays, reference works, collections of short stories, plays, a memoir and the historical Spanish-language novel Taíno, recently published by Spain's Ediciones Áltera. Moreover, he is the author of more than 40 publications in newspapers and journals from Puerto Rico, the USA, Spain, Venezuela, Mexico, Peru, Italy, Colombia, Canada and the Internet. He has received literary awards in Portugal, Puerto Rico, the United States and Canada, and his work has been the subject of large portions of three published works as well as a whole book.
Where to find Jaime Martinez Tolentino online
Books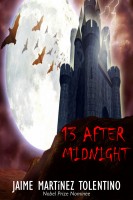 13 After Midnight
by

Jaime Martinez Tolentino
WITH AN INTRODUCTION TO THE SHORT STORY OF THE FANTASTIC Nobel Prize for Literature nominee Jaime Martinez Tolentino presents 13 stories of the fantastic to read after midnight, and also sets out to explore the differences between the various kinds of such stories—the uncanny, the supernatural, the marvelous, the fantastic, magical realism, etc.
Jaime Martinez Tolentino's tag cloud