Herbert Tombeur
Biography
Herbert Tombeur (1949) graduated in 1972 as a master in law at the University of Leuven (KUL, Belgium). In 1998 he became 'master in European politics, cultures & societies' at the Brussels University with the thesis 'Living apart together – the Belgian intergovernmental cooperation in the domains of environment and economy' (published in: 'Public Policy and Federalism', ed. D. Braun, Ashgate, 2000). After working for three years in an insurance company, he was, from 1977 until 1983, an officer in the Belgian Ministry for Foreign Affairs, first in the Direction for Nobility and Heraldry, later in the Legal Service as an adviser in national and international law. In 1983, he left this federal Ministry for the Flemish Authorities. In the Services of the Flemish Government, he worked until 1993 as a legal adviser and counsel in lawsuits, especially in the field of constitutional and administrative law. In 1994, he joins the new Flemish Department of Foreign Affairs, in which he worked until March 2013 as a political and legal adviser and as an intrafederal and international negotiator. As from March 2013 he is working as a consultant in public administration and legal matters. From 1989 on, he publishes abstracts in political and legal journals, recently about federalism, the Belgian federation, Belgian constitutional law, the European Union and foreign policy. Since 1996 he is a lecturer and a monitor of workshops about the same subjects, commissioned by training institutes in Belgium and the Netherlands. See for more information:www.tombeurcounsel.eu.
Where to find Herbert Tombeur online
Books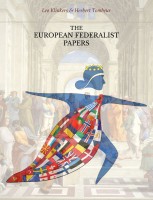 The European Federalist Papers
by

Leo Klinkers

&

Herbert Tombeur
Taking the American Federalist Papers (1787-1788) as the best benchmark, the authors of The European Federalist Papers present the facts and arguments why the current intergovernmental system of the European Union is no longer adequate and has to be replaced by a European Federation like the United States of America in order to guarantee the Citizens' and Member States' sovereignty.
Herbert Tombeur's tag cloud