Tom Ealey
Biography
Tom Ealey has had a diverse career as a CPA, management consultant, health care executive, seminar leader, technical writer and college lecturer (accounting and tax). He has written books, manuals and dozens of journal articles on health care administration, and has also written on such diverse topics as employee training and personal finances.

Tom is a professor of business administrator at Alma College in Michigan.
Books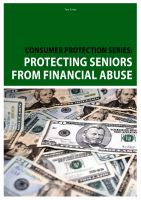 Consumer Protection Series: Protecting Seniors from Financial Abuse
by

Tom Ealey
U.S. seniors are subject to financial abuse via "target of opportunity" schemes, by financial sales persons without scruples and by professional criminals. This book outlines the most common abuses and provides easy low-cost methods for seniors and their families to protect senior from financial abuse.
Tom Ealey's tag cloud