T.A. Kelly
Biography
T.A. (Tom) Kelly gained his knowledge of business and of self-employment from a long, successful and award-winning career as a technical and business journalist and as a marketing promotions consultant to high-technology enterprises. He was an editor and editor-publisher for leading publishers in Great Britain and Canada. Since the mid-1990s, he operated his own business as an independent, self-employed editorial and communications specialist. He served on an editorial quality-assurance council for Maclean-Hunter Business Press and on advisory boards of the Canadian School of Management and Ryerson University. He contributed to the skills of members of the Association of Independent Consultants through presentations on media relations and business writing.
He now lives in Hamilton, Ontario, with his wife Mary.
Books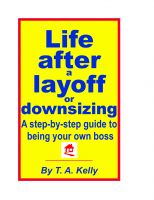 Life After a Layoff or Downsizing
by

T.A. Kelly
Life After a Layoff or Downsizing is for people whose jobs have been cut or fear their jobs are at risk or whose work environments have become intolerable. It has been written to help them decide between employment and self-employment, and to show how to plan a business. Quotes from Scripture and business leaders are offered to help them cope with stress and to follow ethical principles.
T.A. Kelly's tag cloud