Tony Beck
Publisher info
Born in 1943, technically I'm not a Boomer. However, I consider myself one since I grew up in the 1950s and 1960s. I had the Boomer experience. I was raised Roman Catholic and attended 12 years of Catholic education. I went to a secular college, and at that point I stopped going to church. After graduate school I joined the army. Those were the days of the draft, so I enlisted to have my choice of military specialty. Although I hadn't asked for it, I was also assigned to German language school. After graduating I was sent to Germany for a year and a half. While I was in language school, Sue and I got married in 1968, and she accompanied me to Germany.

After the army I went to work with IBM as a financial analyst, but left after three years to join Xerox, where I spent ten years in various financial positions. I then went to work for a couple of small, high-tech companies, did some consulting, and eventually spent ten years with a supplier to the pharmaceutical, diagnostics, and research industries as its CFO. We moved to Connecticut for one of those jobs, and lived there for 17 years.

After we moved to Connecticut I started attending church after a 20 year absence, and began to participate in various Bible studies as well as becoming active in my local church's ministries.

My last job was with an English company starting up operations in the US. While working for them, I received a powerful call to go into the ministry. I began the United Methodist Church's process for becoming a pastor. The Church has a program that allows you to do your readings and papers during the year at home, and then attend class for four weeks at the seminary during the summer.

I was a pastor for 13 years with the help of my wife Sue. Those were the best years of my life. We retired from local church ministry in 2013.

When I look back over my life (as well as Sue's life) we can see God's hand, preparing us for the pastoral ministry (even though we didn't realize it at the time). And that's how I went from business executive to pastor.
Books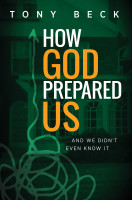 How God Prepared Us... And We Didn't Even Know It
by

Tony Beck
How God Prepared Us...And We Didn't Even Know It is the story of one family's journey that will amuse you and inspire you, and maybe even bring back your own memories.
Tony Beck's tag cloud