Tony Orchard
Biography
Tony Orchard was born in Mombasa, Kenya in 1926. Most of the next fourteen years were spent at boarding schools in England and on holidays with relatives and guardians. Dunkirk provided the catalyst to joining his parents in India, and thereafter he traversed the British Empire from Bengal to Barbados, and Sydney to southern Ontario.
Books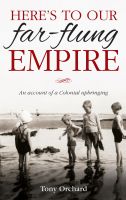 Here's to Our Far Flung Empire: An Account of a Colonial Upbringing
Tony Orchard was a product of the British Empire at a time when Great Britain's rule across an empire that stretched from India to Singapore and Jamaica to Borneo was fast fading into history. Here's To Our Far-Flung Empire is a fascinating and entertaining account of 17 years of conflict, comradeship, romance, adventure and excitement across the world.
Tony Orchard's tag cloud