Anne Sarkisian
Biography
Anne Sarkisian is an ardent advocate for celiac disease and non-celiac gluten intolerance (CD/GI) since it was diagnosed within her own family. She has attended numerous conferences, read more than 2000 abstracts and research studies, numerous books, and constantly looks for new information on anything related to gluten and its issues. Disturbed by the slow pace among medical professionals, she passionately charts a gluten-free path to greater health, energy, and vitality that could be life changing for you.
Where to find Anne Sarkisian online
Books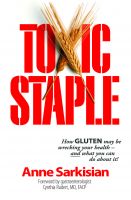 Toxic Staple, How GLUTEN is wrecking your health--and what you can do about it!
by

Anne Sarkisian
Are you or a family member plagued with: allergies, fatigue, irritability, reflux, migraines, arthritis, osteoporosis, cancer, weight gain/loss, gastrointestinal issues, autoimmune disease, focus/memory concerns? These and many more of the 300+ chronic issues linked to gluten are exposed in Toxic Staple.
Anne Sarkisian's tag cloud