Theresa Pisani
Biography
Theresa Pisani and Dana DiMatteo are mother and daughter. are a mother and daughter writing/illustration team. Ms. Pisani has been an artist for many years. She has been a muralist as well as a fine artist and graphic designer. Along with creating children's books, she is currently co-writing a novel with fellow author, Alejandro Torres.
Ms. DiMatteo, whom the story is based on, is an actress who moved to Los Angeles at the age of 18 to pursue her dream. Although she landed a couple of roles in B movies, she decided to change her course in life and begin writing. She is currently writing a comedic travel memoir and is also an artist.
Books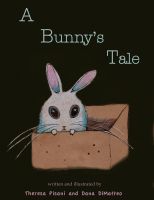 A Bunny's Tale
by

Theresa Pisani
This tale, loosely based on a true story, follows a bunny from her original home on a country farm, into a strange household, then to a pet store in Los Angeles, where she is chosen for adoption by young woman. In addition, the authors strove to depict the daily challenges of living in a modern city as it is a place where millions of children live. The story is one of hope and has a moral.
Theresa Pisani's tag cloud