Thomas Trapani
Biography
T. Trapani has had successful careers in fields as varied as computer engineering, music, commercial and medical photography, equity trading, graphic design and radiation technology. He is a business entrepreneur and has been writing bio-tech thrillers since 1999. He is presently in the process of bringing to film a screenplay which he has recently completed. A world traveler, Trapani lives with his wife and son on Staten Island.
Where to buy in print
Books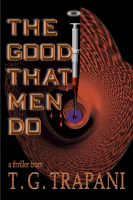 The Good That Men Do
by

Thomas Trapani
A malignant tumor grows in the brain of a government official, in minutes the tumor is dissolved by a breakthrough procedure known only to three men. A terrorist has uncovered the secret to this process and will do anything to control it. Trapped in a web of conspiracy and death are two U.S. physicians who will race against the clock and across the globe to save the one man who can change history.
Thomas Trapani's tag cloud