Brigitte Caturano X
Biography
He pasado más de la mitad de mi vida en viaje, descubriendo culturas distintas y formas de decir inusuales, que me guiaron a la redacción de este manual para todos los que como yo alguna vez se encontraron en situaciones en las que les pareció que cada idioma tiene otro dentro, el idioma que se habla todos los días por la calle y que parece alejarse de los cánones lingüísticos aprendidos en los libros de gramática. Ese mixto de expresiones alternativas, argot y neologismos que a menudo nos ponen en dificultad, nos meten en situaciones embarazosas o nos vuelven vulnerables de ser engatusados cuando estamos lejos de nuestra tierra. Tremendamente útil y entretenido, este e-recurso es el compañero de viaje ideal para sentirse ciudadano del mundo de verdad, para ser un turista avispado y no dejarse escapar nada de todo lo que pasa alrededor. Que lo disfruten!
Books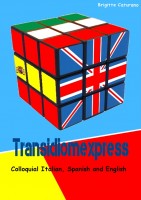 Transidiomexpress ENG
by

Brigitte Caturano X
Languages ​​are in constant motion capturing and reflecting the social changes of the countries and each one has its own personality. Transidiomexpress is a linguistic observatory in which I collected slangs, idioms, neologisms, alternative words to the standard language with meanings and practical examples in Spanish, Italian and English. Designed for travelers in difficulty,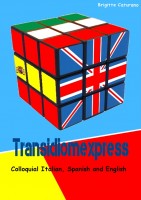 Transidiomexpress
by

Brigitte Caturano X
Price:
$5.94 USD.
Words: 11,940.
Language: Spanish.
Published: May 14, 2014
. Categories:
Essay
»
Literature
Los idiomas son en costante movimiento, capturan y reflejan los cambios sociales de los países y tienen cada uno personalidad propia.
Brigitte Caturano X's tag cloud