Trudy Vanderhulst
Biography
I am a 35 year old single female, with a romantic heart and active imagination. I love reading books, and can always seem to imagine the story in my head. I find myself creating my own movies in my head to fall asleep to, and then I write them down. I am busy with my work, and volunteering, do I don't have as much time for my writing that I would like.
Smashwords Interview
Books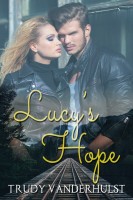 Lucy's Hope
by

Trudy Vanderhulst
After Carlos gets in trouble with the law, his Guardian Lucy becomes worried. Enters Detective Trent Henderson, someone to care about her kids and Keeping them safe. But who will keep Lucy's heart safe when she finds out what has really be happening.
Trudy Vanderhulst's tag cloud