Tom Rynard
Biography
Tom Rynard is an author, independent scholar of history, and practicing attorney. In February 2015, he will retire from the United States Army Reserves. Tom's areas of historical research include Renaissance Venice and American cultural history.He received his Bachelor of General Studies degree in history from the University of Kansas, his Juris Doctor degree from the University of Missouri—Kansas City School of Law and his Masters in History degree from American Public University. He has published professionally on legal and historic subjects in books and in professional journals. His fictional creation, the Renaissance detective Reginaldo Morosini, has appeared in one novel published by Smashwords and five short stories published in Mysterical-e, www.mystericale.com, an electronic magazine publishing mystery short story fiction. More Reginaldo Morosini books and collections of short stories are in the works. Tom loves traveling, travel photography and long rides on the on his bicycle. He has lived in Italy (30 miles or so from Venice) and Germany while on extended tours with the Army Reserves and has traveled extensively in Europe and Japan.
Where to find Tom Rynard online
Books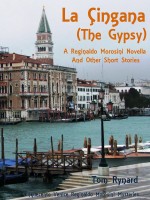 La Cingana (The Gypsy): A Reginaldo Morosini Novella and Other Short Stories
by

Tom Rynard
Reginaldo Morosini, introduced in Murder Gentilissimi, returns as special criminal consultant to Venice's Council of Ten in a collection of two novellas and four short stories. Reginaldo finds justice for a variety of murders and other notorious crimes through exhaustive sifting of the evidence, a keen understanding of human nature and the criminal mind, and his powers of deductive reasoning.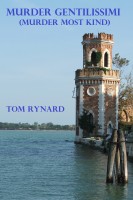 Murder Gentilissimi (Murder Most Kind)
by

Tom Rynard
In this work of historical fiction true to the Venice of the sixteenth century, Reginaldo Morosini, full-time schoolmaster and part-time special consulting investigator for Venice's Council of Ten, investigates the murder of a young member of Venice's patrician society. In the course of that investigation, he unravels a political conspiracy that involves the death of five others.
Tom Rynard's tag cloud