Mike Collett
Biography
Well, I'm well into my 6th decade now & retired after a long run as a computer programmer in Canada.

I've always loved Science Fiction & Action/Adventure books.

I am currently living in Vancouver, Canada and thought I would try my hand at writing.

I've had a story (or at least the beginning of one) rattling around in my head for years so I started with that one. The result is The Aquilla Factor. It is my first and possibly only book. I am trying to turn it into a trilogy now and I've got a start on the second one and outlined the third-one. Whether they will ever come to fruition remains to be seen. I'm afraid writing doesn't come easy to me.
Books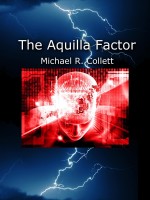 The Aquilla Factor
by

Mike Collett
For someone that was 300 years old Aquilla was still a very young girl; just now blossoming into adulthood. In a long-lived species such as hers' growing up was an extended process. She had discovered this early when she didn't develop as quickly as her shorter-lived class-mates.
Mike Collett's tag cloud