Paul G O'Connor
Biography
Paul has said that Healing is his soul work. He has been involved with healing most of his life, it is strong in his whakapapa or ancestral lineage, and his maternal great-grandmother Tangimangaone Nawaia was a renowned Healer.
He dabbled with pain treatment as a young man, self-teaching himself acupressure to alleviate headaches that used to trouble him in his early twenties.
He attended his first Bowtech or Bowen therapy seminar in November 1996, which gave him more healing direction. Later he was appointed as a Bowtech teacher with teaching engagements in both New Zealand and USA. He has been an executive member of NZ Bowen Therapy Inc and is a past president.
His work as a Bowen therapist culminated in the first medical trial for Stroke Treatment, and he presented the results at the Bowtech conference at Yale University in June 2006.
Paul has two published articles in the Bowen Hands journal.
Currently Paul lives in Rotorua where he and his family manage a hostel, Cactus Jack's Backpackers.
Books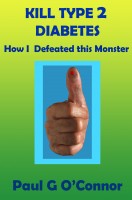 Kill Type 2 Diabetes
by

Paul G O'Connor
I wrote this book to show that the monster Type 2 Diabetes is well entrenched. He will not give up without a major fight. The way to kill type two diabetes is easy if the correct weapons are used. The key weapon is education. We can conqueror this monster that invites his nasty neighbors to gatecrash your life; depression, soreness, neuropathy, foggy brain syndrome, misery and poverty.
Paul G O'Connor's tag cloud