Robin Gregory
Robin Gregory was born in Florida and raised in California with seven siblings, and in the company of cowboys, crawdads, and the occasional rattlesnake. When not writing magical realist novels and screenplays, she likes to hike in the wilderness, listen to difficult jazz, talk with angels, and watch Guillermo del Toro films.

Her début, young adult novel, The Improbable Wonders of Moojie Littleman, is about a disabled, orphan boy with healing powers who befriends an otherworldly clan. It won 22 awards, including Kirkus Reviews, Indiefab, IPPY Best Books of the Year. Chinese and Turkish translations to be released Summer, 2018.

Mrs. Gregory studied Creative Writing and Literature at the University of California, Santa Cruz and Stanford University's Writer's Workshop. Her professional experience includes journalist, minister, and mapmaker.

What are her favorite things? Saints with potty-mouths, children under the dinner table, the classics, and corn chips.

Presently, she lives in California with two comedians, her husband and son.
Frankfurt Book Expo
A happy publisher discovers MOOJIE!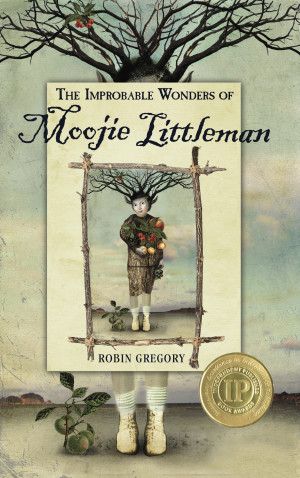 The Improbable Wonders of Moojie Littleman
by

Robin Gregory
Through friendship with otherworldly beings, a disabled boy discovers miraculous healing powers his kinfolk refuse to recognize.