Ty Beltramo
Biography
Ty lives in Oxford, Michigan, the gravel capital of the world, with his wonderful wife and three children. He reads and writes science fiction, humor, and mysteries, along with the occasional essay. When writing, he tries to emulate the simplicity of Isaac Asimov, the honesty of Hunter Thompson, and the humor of Douglas Adams. When working, he writes software. When playing, Ty enjoys cooking all forms of good food, gaming with the kids, and long distance running.
Where to find Ty Beltramo online
Books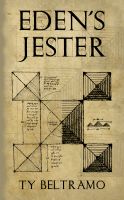 Eden's Jester
By
Ty Beltramo
Price:
$1.99 USD.
Words: 73,450. Language: English. Published: September 16, 2013. Category: Fiction
What if the spiritual beings left to manage earth's evolution didn't understand what's going on any better than we do? Eden's Jester is a hard-boiled humorous fantasy novel exploring how such a state of affairs could explain why things here on earth are so messed up. Follow Elson, a failed Evolution Engineer, as he tries to answer questions we all have: What's it all mean? and Why me?
Ty Beltramo's tag cloud