T.Y. Carew
Biography
T.Y. Carew is the pen name for an entire group of authors. They've come together to write the Adamanta series and other works in the same universe. So far they consist of Stephen P. Scott, Andrew Bellingham, Ella Medler and Jess Mountifield. They're a quirky bunch of writers, with a variety of genres under their belt and different elements to their styles we'll hope you agree make an interesting blend. One thing they definitely have in common is the love of diving into a book and going on an adventure, be that reading or writing one!
Books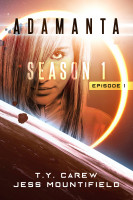 Adamanta (Season 1, Episode 1)
by

T.Y. Carew

&

Jess Mountifield
A team of humans is willing to face almost insurmountable odds to save the human race from annihilation. But how safe from discovery is the research base the team has been secluded on? Xander has dedicated his life to the military, keeping humans in the galaxy alive, no matter the risks. Can he find the one thing humanity needs to turn the tide, and can he cope with that thing being a person?
T.Y. Carew's tag cloud