Tyler Gillespie
Biography
Tyler Gillespie graduated from the University of Central Florida with a B.A. in English Literature and a B.S.B.A. in General Business Administration. He was a Junior Editor at Ampersand Books, an independent publishing house. Along with copy-editing and acquisitions duties, he was responsible for marketing, using traditional methods along with various social media platforms. He has been published in places such as Creative Loafing, Yahoo!, The Ampersand Review, Thought Catalog, Windy City Times, and Writer's Digest, among others. Tyler lives in Chicago.
Where to find Tyler Gillespie online
Books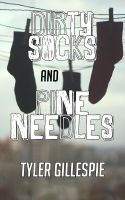 Dirty Socks and Pine Needles: An SRP eBook Single
by

Tyler Gillespie
We do not choose our family. We love them or want to love them. We embrace them or run from them. We leave them or become them. Through it all, we are linked by the commonality of a shared blood, and in Dirty Socks and Pine Needles, a sweet and funny eBook single from Sibling Rivalry Press, Tyler Gillespie paints a portrait of a family and the tender-hearted boy at its center.
Tyler Gillespie's tag cloud