Hodge Publishing
Publisher info
Tyra Hodge is a Christian author, educator, and motivational speaker Tyra was a homeless mother when God intervened and delivered her spiritually and physically. As God provided means for her to attend college, she earned a master's degree in education and is now pursuing her doctoral degree. Further, Hodge founded the nonprofit, Parenting Connections and Hodge Publishing. Currently, an educator specializing in at-risk students, she is a published author of two additional novels: A Wounded Daughter's Diary, a book about the love of the heavenly Father and true forgiveness, and Don't Date Him, a witty book on dating and relationships. The newest is God's Plan for Black America, a book about stopping the division in our country.
Where to find Hodge Publishing online
Videos
Out of the Ashes
When everthing around her burns to the ground will Deanna rise from the ashes?
Books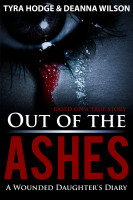 Out of the Ashes ( A Wounded Daughter's Diary)
by

Hodge Publishing
Stripping, drugging, and homeless, Deanna is a modern-day prodigal daughter. One wrong choice after another has left a scarlet stain on her life. After a failed suicide attempt Deanna realizes she has something to live and fight for.
Hodge Publishing's tag cloud