J. K. Swift
Biography
**Join the mailing list: you will ONLY be contacted when JK publishes something new! http://eepurl.com/hT8zU J. K. Swift lives in a log house well off the beaten path in central B.C., Canada. He is the author of "The Forest Knights" novels (http://theforestknights.com), which are set in medieval Switzerland. He has worked as a school teacher, jailhouse guard, Japanese translator, log peeler, accountant, martial arts instructor, massage therapist, technical editor, and has called a few Bingo games. He gets his story ideas while traveling in Europe, feeding his chickens, and cutting wood.
Where to find J. K. Swift online
Books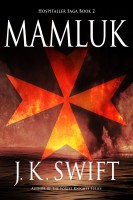 Mamluk
by

J. K. Swift
The boys in Brother Foulques de Villaret's Army of Children are approaching manhood, but their training is far from complete. Foulques needs more time. The Hospitallers, Templars, and Teutonics all need more time. Before preparations can be made, the Mamluks are at the gates of Acre. And in their midst, is a man Foulques knows only too well. They call him the Northman.
J. K. Swift's tag cloud