Girish Maiya
Biography
Girish Maiya has over 17 years of experience in various fields and companies. He is a chartered accountant and certified information systems auditor by qualification. He has worked in the areas of financial and tax audits, ERP implementation and support, software development, testing, IT Audits, SOX audits, process review and improvements etc. He has worked in Indian as well as multinational companies and at international locations as well. He has done consulting work for different clients in high tech as well as manufacturing industry. Girish has been consistently providing new ideas that are practical to his senior management as well as to his clients. He has also written blogs on many of these new ideas in internal portals. Girish has been studying about different open source projects and also done some research around it. He is also working with different organizations to build a platform across various cities with in India to accelerate OSH based product development and manufacturing in India. This model can be implemented across the world to benefit from collaboration and sharing. Product Development Process for OSH is the first book written by Girish. He intends to do more research in this area and release many versions in future. He is also planning to publish a series of innovation related concepts called - Think Inside the Box.
Where to find Girish Maiya online
Books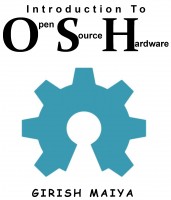 Introduction to Open Source Hardware
by

Girish Maiya
This is a book that have basic topics on open source hardware. Anyone who is interested in innovation through open source hardware can go through this book and get basic understanding.
Girish Maiya's tag cloud