Ugo Odimba
Biography
Ugochukwu "Ugo" Odimba is an avid reader, a prolific writer, and a dynamic teacher of biblical doctrine. His passion is to see people come to the complete knowledge of the unmixed gospel of Christ and delivered from the shackles of religion. He has a versed multidisciplinary background with degrees in sciences, finance, and information technology. He also attended Rhema Bible Training Centre, Abuja Campus. He lives in Abuja, Nigeria with his wife, four children, and two dogs. He is the author of the blog, coretruth.org, on which he writes about the boundless love of God and the identity of the believer in Christ. You can find him on Twitter at @ugo_odimba, and on Instagram at ugo_odimba.
Where to find Ugo Odimba online
Books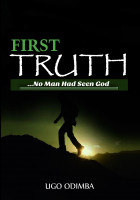 FIRST TRUTH: No Man had Seen God
by

Ugo Odimba
The book explains the Old Testament, the New Testament, and clarifies the gospel of grace. In this insightful narrative, the author has traversed through the Bible to answer this question. He has also shown how the neglect of this truth has led to myriads of teachings and practices in the church today that are not in harmony with the new covenant.
Ugo Odimba's tag cloud