Nina Waters
Biography
Nina Waters is the pen name of Claire Penina Houck. Claire was born and raised in New York City. She earned bachelors degrees in History and East Asian Studies from the State University of New York at Binghamton in 2004, and a Masters of Library Science from Indiana University at Bloomington in 2007. Her first career was as a grant writer and program evaluator for the New York City Department of Education, which taught her more about deadlines, succinct writing, collaborating, and accepting criticism than any creative writing course she ever took. In fall 2014, Claire moved from the Bronx to Schenectady, New York, bought a house, and got married. She now happily lives in the Capital District with her wife Lisa, their baby son, two dogs, a cat, and a fishtank. She has previously published two short stories, both available on Amazon.com: "Fight Like a Girl" and "What Follows." As a writer, she is best known for her Supernatural erotica fanfiction, published on Archive of Our Own and Fanfiction.net under the username unforth. Claire is gray-asexual, cis-gendered female, culturally Jewish, religiously atheist, and you can probably guess her political affiliations, but if you're in doubt, follow her Tumblr.
Where to find Nina Waters online
Books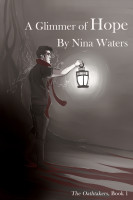 A Glimmer of Hope
by

Nina Waters
Gregory Adalwin's life ended the day in 1746 when his liege lord, Duke Haribert Schultheis-Königsmann, was murdered. Or so he thinks, until someone tries to kill him, and Gregory is confronted by a stupefying question: who on earth could possibly give enough of a damn about him to want him dead?
Nina Waters' tag cloud