Kjiva
Biography
Stefen Jones (born September 03, 1983), whose stage name Kjiva or KJIVA the marathi rapper , is an Marathi songwriter, composer, rapper,singer and musician. He is a Creator of Marasta hip hop, this type new style genre of music get first time heard in Marathi language. He is also introduced gangsta hip hop in Marathi from his track title 'Ganjah'. Which is based on criminal background of his life. He started his career as music producer with release his first instrumental album 'Me N Mah Beat'. 2016 he gain popularity from club hit maker track 'Booty' which is produced by Dj mustard.
Books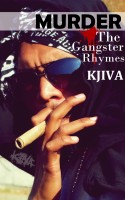 Murder The Gangster Rhymes
by

Kjiva
This book is based on the life of KJIVA the Marathi rapper which is written by Kjiva in poetic form. When he was 16 to 19 years old, sharing his experience about his street life & friends who turn to ruffian.
Kjiva's tag cloud