Vincent A. Alascia
Biography
Vincent A. Alascia is the author of, "In the Presence of Gods," and, "Xristos: Chosen of God," available on Kindle and paperback, as well as work that has appeared in anthologies and online. Originally an East Coast native, he makes his home in the Phoenix Arizona area with his wife and three attention grabbing felines. He is an active member of the West Valley Writers' Workshop and a librarian at the Arizona State Library, Archives and Public Records.
Where to find Vincent A. Alascia online
Books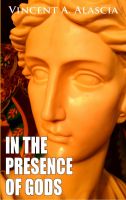 In the Presence of Gods
by

Vincent A. Alascia
Will Theron and Ariadne have to sacrifice their love to save the Gods of Atlantis from oblivion? 12,000 years ago Zeus decided to spare the island of Atlantis, allowing the culture of Ancient Greece to flourish. Flush with their superiority, the people of Atlantis regard the Gods as myth and story. Zeus now realizes that he was in error and the eight million residents of Atlantis must die.
Vincent A. Alascia's tag cloud