Drew VanDyke
Biography
Drew VanDyke began writing his first book, intended to be a graphic novel, at age thirteen. Tragicom and Dramedy ensued and he eventually fled his hometown of Turlock, Ca first to find himself in the beautiful rolling hills of Marin County, CA, then on to the gorgeous scenery of the Pacific NorthWest and Seattle, WA, a short stint as a Fitness Director on the Cruise lines out of Miami, FL, a plunge into songwriting in Nashville, TN, and then on to Tampa, FL for a degree in musical theatre until finally coming to land back in Berkeley, California wondering what to do with a Bachelors in Performing Arts and a Masters in Theology. He didn't return to writing until his brother, military sci-fi writer David VanDyke, suggested they collaborate on a novel. What followed came the "Supernatural Siblings" series, an urban fantasy myth set in mystical Knightsbridge, California, a place where identical twin girls do their best to love each other in the midst of family dysfunction; with just a little paranormal magic thrown in the mix.
Books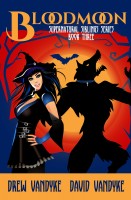 BloodMoon
by

David VanDyke

&

Drew VanDyke
When Ashlee's mate Will pushes for lupine breeding just as her twin Amber is exploring new magical powers, the impending Blood Moon threatens to turn a difficult situation into a total fiasco. Add in a witches' brew of mysterious out-of-towners, old and new enemies and creatures familiar and strange, and once again her life is turned upside-down.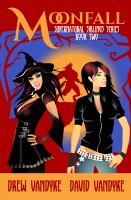 MoonFall
by

David VanDyke

&

Drew VanDyke
When travel writer and werewolf Ashlee Scott is approached with a shocking offer to be the mother of a new race, she must decide where to place her trust: in the hot new werewolf in town, in her first love Will, or even in the shadowy vampire lurking in the background. Pulled in all directions by her family, she must confront her own demons while trying to exorcise others.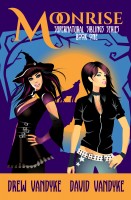 MoonRise
by

David VanDyke

&

Drew VanDyke
When travel writer and werewolf Ashlee Scott returns to her hometown to recuperate from a shooting, she must confront a place full of painful and pleasant memories while dealing with her identical twin sister Amber and the complications of family. Throw in the full moon, old boyfriends, old ghosts and new enemies, and Knightsbridge Canyon will never be the same for her again.
Drew VanDyke's tag cloud