Ginger Cobb
Biography
Ginger Walsh Cobb has been an educator for over twenty-seven years. She attended the Brooks School in North Andover, Massachusetts. Ginger holds a B.A. in English from Denison University and an M.A. in Private School Leadership from Columbia University. Currently, Ginger is finishing her twenty-first year at St. Andrew's Episcopal School in Potomac, Maryland. She is the Head of Upper School, 10th Grade Academic Dean, and Co-Director of Service Learning. In her role as Head of Upper School, she educates students and their families on how to deal with drug and alcohol use, stress, harassment, abuse, Internet safety, eating disorders and depression. In her role as Academic Dean, she counsels students in selecting the right courses for their learning profile as well as helping them find a balance between academics, sports, activities, and friends. She teaches a service learning course where students engage in community service and learn more about themselves and the world. In her earlier years at St. Andrew's, Ginger was the Dean of Students, Athletic Director for Boys and Girls as well as the Director of Summer Programs. She taught high school and middle school English and coached Varsity Soccer and Lacrosse.

Ginger also has extensive experience in international education. She taught at the American School of Warsaw for 3 years and at the International Community School of Abidjan in Abidjan, Cote d'Ivoire for 2 years. Recently, Ginger traveled to Haiti with students and four other educators to begin a partnership with an impoverished school.
Ginger currently resides in Bethesda, MD with her husband and two children.
Books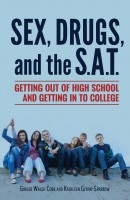 Sex, Drugs, and the S.A.T.: Getting out of High School and Getting in to College
by

Kathleen Glynn-Sparrow

&

Ginger Cobb
Here's your road map for two daunting journeys: getting out of high school and getting in to college. While you're handling the harrowing highways of high school, the authors will steer you through the college application process. From how to prevent teenage drinking to crafting a clever college essay, this book gives parents savvy solutions to surviving the teenage years.
Ginger Cobb's tag cloud