Rudeboi Indigo
Biography
Amar'e Yahsun Bey aka Rudeboi Indigo is a Stand Up Comedian, Poet, Song Writer, Dancer, Holistic Practitioner, Personal trainer, and More. He is here to tell you a story that you have never heard before. Be prepare to delve into a realm of infinite fun possibilities. He would make you laugh and think with his unique style of comedy and interesting perspective on life. Please share his work and enjoy the ride!
Videos
Rudeboi Indigo Comedy
Me doing a stand up comedy set. Talking bout Big words, Garbanzo beans, Celibacy, Lesbians, Being Dominican, Dancing, Etc..
Books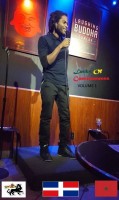 Locks Of Conciousness
by

Rudeboi Indigo
Price:
$4.99 USD.
Words: 8,060.
Language: English.
Published: February 11, 2016
. Categories:
Fiction
»
Poetry
»
Spiritual
(free?)To Begin, If you would like to read this book for free before purchasing just email me at youngthirties@gmail.com and I will send you a pdf version. This Book is a collection of poems I've written over the years after a motorcycle accident I had. The accident made me realize how precious life is and it inspired me to change the way I eat, live, and write poetry.
Rudeboi Indigo's tag cloud