Velma Ann Begley
Biography
Velma Begley resides in the seaside community of Cohasset, Massachusetts, although she considers herself more a spirit of the field and forest than of the water. She observes and records the comings and goings of the creatures of the earth, trees, and sky from the weedy gardens of her family's antique farmhouse. Her backyard sketchbooks recount the adventures of creatures such as butterflies, hummingbirds, chipmunks, and fairies as they work hard to coexist in a dangerous world filled with cats, dogs, chemicals, and humans.
Velma has a BA in education from the University of Massachusetts, Amherst and a master's degree in Reading from Eastern Nazarene College in Quincy, Massachusetts. Velma is a founding teacher of a charter school, where she continues to teach a multi-aged class of first and second graders.
As an elementary school teacher, Velma has strived to pass a "green" message on to the next generation. She dedicated ten years to owning and operating a butterfly release company, Whispering Wings, and is a former president of the International Butterfly Breeders Association.
Books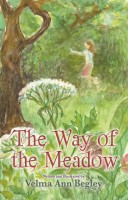 The Way of the Meadow
by

Velma Ann Begley
In the magical world of the meadow, the flowers bloom, the insects buzz, and the butterflies roam free. The plants and animals live together in protect the meadow—in the form of very enchanting harmony, with help from a curious and ecologically-minded girl named Willa. But the beauty of nature has other battles to fight, and Willa discovers that sometimes Mother Nature sends help to nd wonderful
Velma Ann Begley's tag cloud