Frans Verhagen
Biography
Frans Verhagen studeerde rechten en sociologie in Groningen en haalde een Master of International Affairs aan Columbia University in New York. Van 1983 tot 1989 werkte hij als correspondent in Washington DC, daarna was hij onder meer adjunct-hoofdredacteur en adjunct-uitgever van het weekblad Intermediair. Van 1993 tot 2003 had hij zijn eigen tijdschrift, het kwartaalblad Amerika.

Verhagen houdt zich inmiddels dertig jaar bezig met de Verenigde Staten en schreef elf boeken. Verhagen schrijft regelmatig voor De Groene Amsterdammer en Nederlandse dagbladen, en houdt zeer regelmatig lezingen over onderwerpen die te maken hebben met de Verenigde Staten, met immigratie en integratie of met beide. Hij runde achttien jaar de website amerika.nl, nu voortgezet op meiguo.nl.

De auteur woont in Amsterdam met zijn Chinees-Amerikaanse echtgenote en twee zoons die genieten van hun meervoudige identiteit en hun dubbele paspoorten.
Books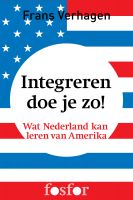 Integreren doe je zo!
by

Frans Verhagen
In Integreren doe je zo! laat Amerika-deskundige Frans Verhagen zien wat wij in Nederland kunnen leren van de geschiedenis van de Verenigde Staten. Integreren doe je zo! is een uitdagend boek en een belangrijke bijdrage aan de opinievorming.
Frans Verhagen's tag cloud