Valentina Gurarie
Biography
Valentina Gurarie was born in Ukraine, then a part of the Soviet Union, and studied Philology at the Maxim Gorky University of Kharkov.
Later, while a graduate student in Slavic Studies at the Hebrew University of Jerusalem,Israel, she edited the "Samizdat" – an underground magazine, banned in the Soviet Union at the time – for the University's Publishing House. She published short stories, an essay and a novella in a bilingual (Ukrainian-English) literary magazine "Suchasnist" (Contempoary Times).
In the United States, after a long and rewarding career in Information Technology, she turned fully to the pursuit of her writing aspirations. Historical fiction is this author's favorite genre.
In a cosmically negligible time-lapse between our ancestor's dinner of mammoth's stake and our yesterday-morning coffee at our local coffee shop, the history of humankind provided us with an impressive number of dead bodies, with never-ending string of mysteries attached to them. Sprinkled by the writer's imagination, this fertile soil bears a fruit – a compelling story based upon a historical fact. With that in mind, "The Prince Must Die" and her soon to be published other historical novels were conceived.
She finds her second plunge into writing a gratifying journey and is welcoming that collusion of serendipity and newly available venues of book publishing that makes it all worthwhile.
With her husband of many years, Valentina makes her home in Boulder, Colorado, where she is visited by her two wonderful and talented sons with the families of their own.
Books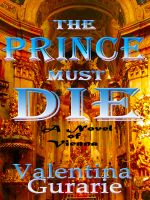 The Prince Must Die
by

Valentina Gurarie
Crown Prince is dead. Was it a suicide or a murder? Who killed the Prince? Victor Moritz investigates. With his daughter Emily, he follows the tangled paths of guilt leading in several directions at once. More often than not, it is easier to explain Death than to solve Life. What if the hand that pulled the trigger and the head that willed it to do so don't belong to the same body, dead or alive?
Valentina Gurarie's tag cloud