Victoria Henry
Biography
Victoria Henry is a technical writer who lives near Detroit. Influenced by Mark Twain, TR Pearson, Mel Brooks and Mad magazine. Her work, Galaxy Motel, was intended to provide a short, humorous read for someone on an air plane trip, or who finds reading a novel to be too much commitment. Presently under construction is the full-length novel Clancy's Rebellion, a satirical mystery based at a historical battle site.
Books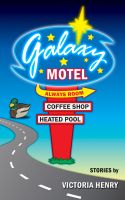 Galaxy Motel
by

Victoria Henry
(5.00 from 3 reviews)
Since the 1950s, the Galaxy Motel has witnessed the growing pains and culture shifts of a restless America pass through its doors. In their own distinct voice, with humor and compassion, three motel managers recount the story of their most memorable guest: a teenage girl in the 50s, a runaway musician in the 60s, and a drug addict with a penchant for redecorating in the 2000s.
Victoria Henry's tag cloud
Smashwords book reviews by Victoria Henry