Mark Neal
Biography
Mark Neal grew up on the Wirral, a peninsular near Liverpool, and faced many of the contradictions and absurdities discussed in "The Vibrating Cranny Scoop". He currently works as an academic, and divides his time between New Zealand, Thailand and Oman. Mark has written for newspapers, and has published books and articles about corruption, gambling, tourism and Buddhism. In 2010 he won an Emerald Literati Award for an article on Supervenience.
Where to find Mark Neal online
Books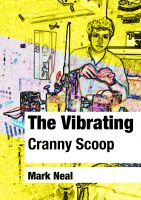 The Vibrating Cranny Scoop
by

Mark Neal
What exactly is Sexonomics? What do Captain Beefheart, Sylvia Plath and the Christian Brothers have in common? Young Ian Rochford wrestles with these questions as he careers around Liverpool in search of the multiform Alison, and faces his terror of crosswords, hermaphrodites and "the Strap". As Brother Flynn enters "the Zone", who knows what tales of love, horror and passion will be spun?
Mark Neal's tag cloud