Vicki Pettersson
Biography
Vicki Pettersson is the New York Times bestselling author of two series, the six-book urban fantasy 'Signs of the Zodiac' series, featuring reluctant superhero, Joanna Archer, who battles foes in a previously unrealized supernatural underworld. 'Celestial Blues' her paranormal mystery trilogy pairs a P.I./angel from the 50's with a modern-day rockabilly reporter. Together they fight crime. Both series are set in her hometown of Las Vegas. Vicki now divides her time between Sin City and Dallas, Texas, where she's learning to like good Tex-Mex (easy) and the Dallas Cowboys (easier than you'd think).
Where to find Vicki Pettersson online
Books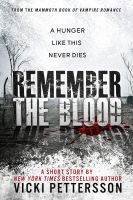 Remember The Blood
by

Vicki Pettersson
New Year's Eve is a night of celebration and remembrance for some … but for others it's a time to forget. While the years might pile up easily behind vampires Ina and Alexander, the memories do not. Forgetting is the price they must pay for the gift of eternal life, but Ina and Alexander will do anything to stay together … and for that they must remember the blood.
Vicki Pettersson's tag cloud