Victoria Kamm
Biography
I spent most of my adult life in the refrigeration industry as a manufacturer. I offered specialty training to residential and commercial refrigeration and HVAC contractors and technicians in evacuation procedures, refrigeration recovery, heating and air conditioning theory. I loved it. Life has a way of throwing new things in your way and when my husband became ill we sold the company. In the meantime my beautiful, smart, loving daughter became involved in drugs and crimes to make sure she had a steady supply. As a juvenile she was placed in a drug treatment court. My involvement became a passion for working with parents and families and I become the parent support partner for nearly four years. Heroin and opiate addiction began showing up in the drug court three years ago. It was a shock because heroin is so addictive and so relapse heavy current wisdom wasn't helping. There are plenty of agencies that deal with an addict through counselling, support, and often medically assisted treatment. The people who surround the addict have to deal with the very rough ripple effect and they are the people I want to talk to. There is hope.
Where to find Victoria Kamm online
Videos
Welcome!
An introduction to why I am so passionate about preventing heroin and opiate addiction and overdoses.
Books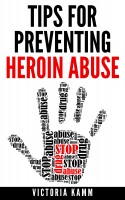 Tips For Preventing Heroin Overdose
by

Victoria Kamm
Heroin and opiate overdoses and deaths have become an everyday occurrence. Prevention starts at home. This guide shows you how.
Victoria Kamm's tag cloud