Victorious Grace
Biography
Victorious Grace writes about the love of God for all. She is a firm believer in Jesus Christ. She strongly believes in the leading and guidance of the Holy Spirit. Born and raised in West Africa, Victorious now lives in the United States of America. She wrote and co-directed as well as starred in her first short film, titled 'A view from here'. She has been part of several movie projects, and has studied and trained as an actress in West Hollywood, California.

Victorious soon found out she loves learning about God and sharing His love for all with others. Growing up, she has always been intrigued with this special four-letter word called "love". It only made sense for her to learn more about this enduring love. While she has not yet attained, she does like to think she is better than she was yesterday, understanding and living out this unconditional love with the help of God. In her opinion, there is no one better to teach about love than the one whom Himself is love. Plugging in or connecting to the source of this love is to know more and grow in it. Victorious serves God in her local Church, teaching God's word to children as well as sharing God's love in her local community.
Books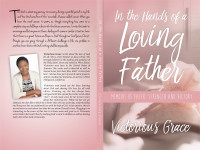 In the Hands of a Loving Father: Memoirs of Faith, Strength and Victory
by

Victorious Grace
This book is about my journey to recovery during a painful period in my life and how God cured me of the 'incurable' disease called cancer.
Victorious Grace's tag cloud