Chantel C
Biography
Chantel C is a 30-something from the East coast. She inherited her voracious appetite for reading from her mother, who is still known to only pull her nose out of a book if one of her children screamed fire. For Chantel, writing started simply as a way to capture every thought in her journal, and slowly evolved into a desire to share the romantic and slightly deviant stories from her imagination. Even if real life is limiting, fiction knows no bounds. It's that need to step out of boundaries and into unknown possibilities that makes writing so attractive. Her philosophy is even if it comes out a little off, at least her creativity is being expressed. Chantel interacts daily with people in the realm of teaching, which only encourages her need to tell outrageous stories. She draws inspiration from her travels and her perpetually single state.
Books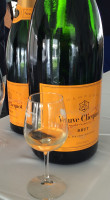 Love and the Perfect Pound Cake
by

Chantel C
NaNoWriMo 2012 book. Last updated 2012-11-16 08:09:05

Goal reached!
Isabella Fiore uses baking as a way to avoid love, but Craig's constant gentleness has her confronting hidden fear and learning that love is as sweet as her mother's cold-oven pound cake.
Chantel C's tag cloud
Chantel C's favorite authors on Smashwords