Vivian Allison
Biography
Born in Shawnee, Oklahoma September 6, 1932, Julia Vivian Collins-Allison grew up on the small family farm as the second of three children. Although she enjoyed the typical care-free fun and discipline of a child growing up on a post-depression Oklahoma farm, Vivian was driven to find adventure beyond farm life. Ignoring the expectations for women of her time, Vivian sought the independence that an education and a career would provide and to escape the confines of a life defined by small town prejudice. She came to understand and accept the fundamental truth and honesty of a life guided by science and reason and its conflict with one based on religious faith—a conflict in which she gladly engaged throughout her life, especially in her writing.

As she matured and accepted the roles of wife and mother, Vivian found her life's adventures to be constantly reconnecting her to her farm life heritage. Her enthusiasm for life and business savvy were perfect partners for her adventures in cattle and sheep ranching with her husband and three baby boomer children in Texas, Oregon and New Mexico. These adventures and her fearless optimism, inspired much of her literary work.

It wasn't until late in life—as a widow and grandmother—that Vivian began writing her first book. Undeterred by publisher rejections, she created her own publishing company, ViviSphere Publishing, which published her book Footprints of the Garden Snake in 1998 as well as the works of many other authors. "Footprints" is an allegory which exposes the hypocrisy of popular political and religious figures of the 1980s (coming soon to Smashwords). Vivian never forgot a favor or a friend and, for his help with "Footprints," she provided inspirational and financial assistance to James Blair Lovell for his 1992 book Anastasia: The Lost Princess, Robson Books, LTD, London. Vivian's other literary accomplishments include her poetry, which earned recognition from prominent organizations, including from the Southwest Writers' Guild.

As a great grandmother and faced with the challenges of advancing age and fading memories, Vivian struggled to continue her writing. Her last effort, Lassoing Echos, is another of her self-published works and is available exclusively as an ebook on Smashwords (http://www.smashwords.com).

Vivian completed the final chapter in her life and died on November 6, 2011.
Videos
Bald Tires
The author recites her award-winning short poem about--you guessed it--bald tires!
Books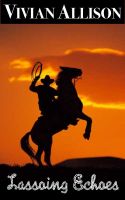 Lassoing Echos
by

Vivian Allison
Price:
$2.99 USD.
Words: 101,760.
Language: English.
Published: February 21, 2011
. Categories:
Fiction
»
Western
"Lassoing Echos" is historical fiction loosely based on the life of the author's outlaw-turned-soldier, paternal grandfather and the author's ranching adventures. The adventures of the author's grandfather as a bank robber with Jessie James and as a Rough Rider with Teddy Roosevelt inspire the adventures of Zach Woodruff in Part I. His legacy in turn inspires his descendants in Part II.
Vivian Allison's tag cloud