Valerie A. Kapp
Biography
Valerie A. Kapp founded Alignment Leadership for Women after realizing she was not living her purpose and passion of service to others. After 30 years of working in the not-for-profit world she noticed a lack of women in leadership roles and a lack of values in leadership. She decided to address these issues and share her experiences by writing this book.
This book is a culmination of her life's journey experiences working in various management positions, attending organizational development trainings, and trusting her gut instincts as a woman.
When Valerie is not attending marches, or sending emails to friends encouraging them to contact their legislators about racial, social and economic injustices, she is riding her Harley Davidson Street Glide or on the golf course or laughing with friends or enjoying the quiet solitude of just being Valerie.
Books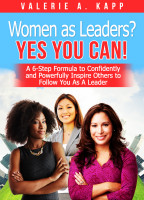 Women As Leaders? Yes, You CAN! A 6-Step Formula to Confidently and Powerfully Inspire Others to Follow You as a Leader.
by

Valerie A. Kapp
This book will assist women who want to increase their confidence about their leadership knowledge, skills, and decisions. This book will assist women who want to be authentic and intentional with their communication and actions so they can confidently and powerfully inspire other to follow them as a leader. Women leaders are the solution leadership solvency.
Valerie A. Kapp's tag cloud