Vlatka Planina
Biography
Vlatka Planina is a writer with a master's degree in English Language and Comparative Literature.
She's published two poetry books: A nekad si mi kupovao lizalice (You Used To Buy Me Lollipops) and Nemoj se plašiti ovoga neba (Do Not Be Afraid of This Sky) as well as a young adult trilogy, the novels: Jegulja (The Eel), Kralj i bajka (The King and the Fairytale) and Povratak vještice (The return of the Witch).
She is a member of the Croatian Association of Writers for Children and Youth.
She lives and works in Zagreb, Croatia.
Books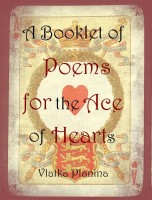 A Booklet of Poems for the Ace of Hearts
by

Vlatka Planina
A small booklet of poetry about love, longing and hope, dedicated to a kindered soul and to all those in quest of their own =)
Vlatka Planina's tag cloud