Veronique Launier
Biography
If you were to look up random in the dictionary, you might find a picture of Véronique. This Montreal native is a single mother to two adorable young girls and a servant to two feline companions. She is also an avid reader, a dreamer, and a hopeless romantic. Her somewhat obsessive personality is often the subject of jokes amongst her family and friends, but it has served her well; she would never have written a book without it. She is studying everything Iranian from the language, to the history, to the cuisine -- another side effect to her obsessive personality -- and she likes to dance (usually in the kitchen).
Where to find Veronique Launier online
Books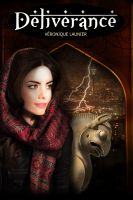 Deliverance
by

Veronique Launier
From the rooftops of Montreal to the undergrounds of Tehran, Garnier de Rouen chases the demons of the present only to find them lead back to his past, to Nakissa, whom he knows better than she knows herself. For Nakissa, life in Tehran, Iran was good. She was lucky and didn't have much to worry about. That is until a series of earthquakes shook the world and changed everything.
Veronique Launier's tag cloud