V R Wilson
Biography
V. R. Wilson was brought up in North Wales. She read History at Aberystwyth University and afterwards gained further qualifications through part time study. Her working career was short but varied. On moving back to North wales, a caring role followed - parents, then husband. Membership of various public bodies has ensured she has had little time to be idle.
Where to buy in print
Books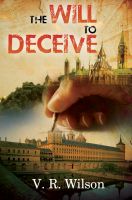 The Will To Deceive
Helen's family had always had its ups and downs, distance and cold callous natures, and closeness in times of comfort. It's not until her aunt dies that Helen realises the extent to which her family would stoop to sudden lows to grab at a fortune. At a young age, Helen is always suspicious.
V R Wilson's tag cloud