Whiskifyre
Biography
Whiskifyre (1974 - ) was born in Pontiac, Michigan to unwed parents Deborah M. Benion and William L. Clinkscales. He spent his formative years under the care of his grandparents, Lugenia and Frank Benion. In 1992 Whiskifyre graduated from Pontiac Northern High School. Approximately six months later he joined the United States Marine Corps where he would spend the next six years primarily stationed at Marine Corps Base Hawaii, Kaneohe Bay, HI. After being honorably discharged in 1999, he remained in Hawaii for six months before returning to Pontiac, MI. Over the course of the next year, he took several college classes relating to technical subjects before relocating to Chicago, IL. Over the next ten years he held a number of jobs. In 2005 he decided to get back into music which he had dabbled in over the years. Through a friendship he established with a co-worker who goes by the name of Supreme Ra, who was also interested in music, Whiskifyre came to the conclusion that he should attempt to complete a music project. One thing led to another, as they tend to do.
Where to find Whiskifyre online
Books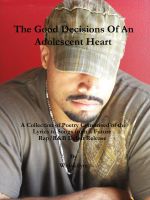 The Good Decisions of an Adolescent Heart
by

Whiskifyre
This small book of poetry serves as a precursor to the later release of a Rap and R&B debut. For the sake of readability and cross-cultural comfort, some words have been changed from the musical version of the title; nevertheless, some words which may seem strong have been left as they are.
Whiskifyre's tag cloud