Wendy Carmichael
Biography
I wrote my first short story in 1968 when I was a Junior at Brilliant Memorial High School. I am an avid RP video game player and love things which challenge my mind.

The journey of Char and Leia began the summer of 2001 with the help of the son of a dear friend. Then 9/11 happened and "the kids" got put on the back burner. Over the following years I would work on their characters, but it wasn't until 2009 I finally felt they were ready to publish. Through the wonders of the Electronic Age I reconnected with a high school friend who just happened to be editing a book for someone and I asked her if she would be interested in helping me. She accepted and the hard work began. Thanks to Twana, I was able to flesh out the characters and give them life. Char and Leia became active, instead of passive, their schooling came alive and the villain, Darmath, gained a voice.

God, Our Creator, and the beautiful world he gave us, has been my greatest inspiration. Each day I awake inspired by the wonderful creatures he put here for us and the gorgeous sunrises. I am sure much of this comes from the Native American side.

My parents, Seymour and Frances Edwards, were always a huge inspiration for me because of their work ethics, empathy for others and their reverence of nature. My sister, Margaret Poe, has been a continual source of inspiration from the time I was small.

My next book, A Knight's Secret:Trillia (working title) will take Char from,Trillia, the home of his ancestors to Darmath's realm, Coopershon. In Trillia, Char will attempt to have the curse of the black dragon, Armala, reversed, then turn his attention to rescuing his birth mother, Heila, from Darmath's evil grasp.
Books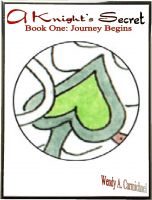 A Knight's Secret: Book One: Journey Begins
by

Wendy Carmichael
(5.00)
A young knight discovers a mysterious secret by which his family has been cursed.His quest to right this wrong will lead him into a new world where love and adventure await him. Will he succeed? Will he be the one to have the curse reversed? Or will he be denied all he has worked to achieve? Char's first task is to find Leia, the Favored One, who will help him begin to unravel this mystery.
Wendy Carmichael's tag cloud